The Cleric is a righteous upholder of justice and Nythan faith.
Specializations
Edit
A fearsome melee fighter whose divine conviction inspires allies. 
Role: Tank
Primary Stat: Endurance
Key Abilities: Reckoning, Righteous Strike, Shield of Conviction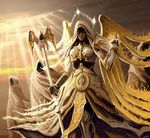 A devout priest of the Nythan deities with extraordinary restorative magic.
Role: Healer
Primary Stat: Wisdom
Key Abilities: Angelic Grace, Restore, Healing Word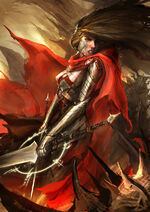 An avenging divine warrior who infuses his physical power with holy magic.
Role: DPS
Primary Stat: Strength
Key Abilities: Crusader's Strike, Wrathful Tempest, Holy Nova
Abilities
Edit
General Abilities

| Ability | Level |
| --- | --- |
| Crusader's Strike | 1 |
| Shield of Conviction | 2 |
| Healing Word | 3 |
| Divine Oath | 6 |
| Purge | 7 |
| Blinding Light | 9 |
| Sigil of the Crusade | 12 |
| Radiant Invocation | 20 |
| Inner Faith | 24 |
| Desperate Oath | 26 |
| Holy Shock | 31 |
| Sigil of Sanctity | 33 |
| Sigil of Vengeance | 35 |
| Rebuff | 39 |
| Invocation of Wrath | 44 |
| Blessing of the Eternal | 50 |
| Inspire | 60 |