The Shaman, the class introduced in the Clans of Winter expansion, is a master of the arts of winter, able to protect and support allies as well as deal damage. 
Specializations
Edit
A stalwart defender who posesses the iron fortitude of the north.
Role: Tank
Primary Stat: Endurance
Key Abilities: Winter's Fury, Ice Barrier, Frost Lance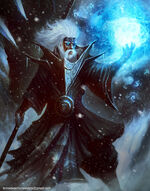 Stormbringer
Edit
A deadly wielder of the magic of ice and thunder.
Role: DPS
Primary Stat: Intellect
Key Abilities: Chain Lightning, Frostbite, Thunderstrike
A healer blessed by the northern gods who uses the soothing power of water to support allies.
Role: Healer
Primary Stat: Wisdom
Key Abilities: Healing Tide, Suppress Pain, Serene Mist
Abilities
Edit
These abilities can be learned by any shaman.